Pearson VUE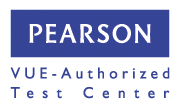 AcuSkill is an authorized Pearson VUE Test Center located in Colorado Springs, CO.

What to bring with you on assessment day:
Two valid IDs. You must bring a valid, non-expired, photo ID (Drivers license, Military ID, Passport etc.) and the second ID can be a credit card.
The First and Last names on your ID must match the First and Last names that we receive from Pearson VUE. Small deviations, such as Dave instead of David are allowed.
You should arrive 15 minutes early for your exam. If you are going to be late, call and let us know. If we can, we will accommodate you, but you may have to wait until a test station is available.
You will not be allowed to take any personal items with you into the testing room. This includes all bags, books or other materials not authorized for this exam, notes, phones, pagers, watches, and wallets. We have keyed lockers available for your convience.

For additional information, please check the Scheduled Exam email you recieved from Pearson VUE.
Scheduling
You can either call into AcuSkill and we can schedule your exam for you over the phone, or you can go to Pearson VUE - Test Taker Home and schedule online.
SAS exam scheduling must be done through Pearson VUE.
Some exams may require that you obtain authorization before scheduling, such as VMware.

Reschedule Policy
To reschedule your exam appointment, you must notify Pearson VUE at least one business day before your appointment. You can log into your Pearson VUE account to reschedule. Please contact Pearson VUE customer service if you have questions about this policy.
Cancellation Policy
If you wish to cancel or reschedule your exam, you must contact Pearson VUE one business day prior to your exam appointment.
Canceling or rescheduling an exam less than 24 hours is subject to a same-day forfeit exam fee. Exam fees are due for no-shows.
If you have less than one business day, you can contact
Pearson VUE Customer Service
and see if they can reschedule. The Pearson VUE Customer Service phone number is specific to the exam you are taking and the best way to the number for the program you are testing for is through their web site.
Prices are subject to change without notice.
All trademarks and registered trademarks are the property of their respective owners.
The company, product and service names used in this section are for identification purposes only.
All trademarks and registered trademarks are the property of their respective owners.